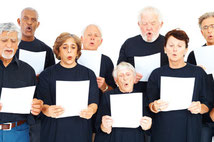 Free vocal workshops offered for all existing and prospective choir members.
Developing vocal quality will be the focus for the Edgecumbe Choir over the next two months, with two highly skilled tutors offering their expertise to all current and potential choir members.
Starting on Thursday the 14th of May, and continuing every Thursday evening until the 11th of June, choristers will be taught skills to enhance both their performances and their joy of singing.

The sessions will commence at 7.30pm and will be held at the Church of St George and St John on Domain Road in Whakatane.
SOPRANOS AND ALTOS WILL BE LED BY LEONIE MCRAE
Leonie was tutored by Dame Sister Mary Leo and has had extensive experience in piano, speech and vocal tuition, solo recitals, orchestras and choirs. 
She has taught soloists for 30 years and willingly gives her support to Tony and the Choir, which she considers a successful and valued part of the region. "Personally I am delighted to be invited to work with the women of all ages who sing with the Edgecumbe Choir. It is appropriate to, in turn, invite anyone in the community who, either now or later, would like sing with the Choir to feel welcome to come to the workshops prepared to focus on vocal tuition", explains Leonie.
Leonie asks that attendees bring a clearfile book, a pencil and note paper, and a drink bottle to each session.
TENORS AND BASSES WILL BE LED BY CHALIUM POPPY
Chalium has also had a successful musical career, much of it in Europe and Canada.
Based at Mount Maunganui for the last six years, Chalium has appeared as a guest soloist and conductor throughout the country, and is Musical and Artistic Director of the newly-formed Scholars Pro Musica – a chamber choir dedicated to informed performances of early music with an emphasis on stylistic excellence.
Chalium's approach will be to give the tenors and basses tools to build on existing skills. 
This is a rare opportunity to learn from such able tutors without having to go to a weekend workshop, and at no charge to attendees, as the choir is covering all costs.
All choir members or potential members are encouraged to attend the workshops.
For any further information, please call Rachel on 3078061.