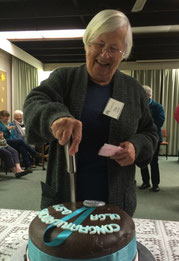 The Edgecumbe Choir would like to congratulate one of its best-loved and most valuable members on recognition in the Queen's Birthday Honours list.

Choir accompanist Olga Stancliff has this month been awarded a QSM for her contribution to music.
Olga has been playing piano with the Edgecumbe Choir since the 1980s. She also accompanies the Eastern Bay of Plenty Brass Band, Trident High School soloists and ensembles, and has taught scores of students throughout the the Eastern Bay.